About Healing Touch Chiropractic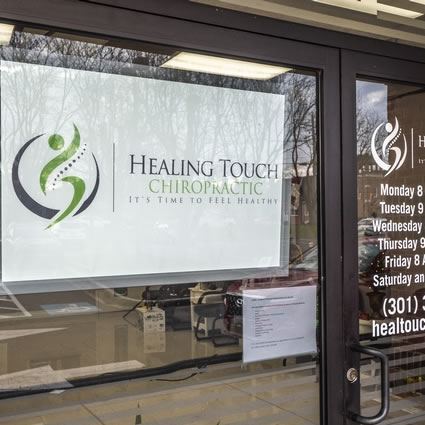 Since he opened Healing Touch Chiropractic in 2015, Dr. Jeremy Cayer has found it rewarding to help patients enjoy optimal health through natural chiropractic care.
Our Philosophy
We believe the body can heal itself using the nervous system.
"I view the physical body as a nervous system with tools to use. If the nervous system can employ the tools appropriately, the body can stay healthier much more so than without being able to use the nervous system effectively," said Dr. Jeremy.
In our practice, we emphasize a subluxation model of chiropractic care, with a focus on opening up the nerve pathways that guide the organs and the different body parts to proper healing and function.
Being Part of the Frederick Community
Before opening his practice, Dr. Jeremy and his wife searched for places that were somewhat in the mountains. "We wanted to be in a mountainous area, so we could do outdoor activities and be within a reasonable drive to the ocean," said Dr. Jeremy.
His wife is also a school teacher and wanted to teach in Maryland. Dr. Jeremy also had a desire to practice in the state, as other neighboring states have greater restrictions on what chiropractors can do. Being close to family is also important to Dr. Jeremy and his wife. Frederick is located between his family and his wife's family.
Our practice also recently joined the Frederick County Chamber of Commerce. By being a part of the local business community, we gain a better understanding of what our patients are going through. This can help us provide personalized care that is tailored to meet each individual's unique needs.
Relax in Our Soothing Practice Space
Our practice environment has been described as "professional Zen." It includes a spacious area, featuring marble tiles, walls painted in pleasing colors and soothing artwork. We have aromatic essential oils being poured out of a small fountain so our practice is delightfully fragrant.
The space also features a waterfall that creates soothing sounds. In the colder months, patients enjoy sitting by our cozy fireplace. We also have recliners that feature massage and heat. The waiting room has coffee, hot chocolate, tea and water. Hungry before your visit? We usually have cookies or trail mix or another snack for your enjoyment.
Some Patient Success Stories
A 5-year-old patient came in and didn't speak. The boy would barely make any sounds every once in a while. He also wouldn't put food to his mouth. Dr. Jeremy discovered there was a blockage in the nerve that goes to his vocal cords. With chiropractic care, the boy has been much more vocal and is learning to use his words a little better.
A man who had a spinal stroke during surgery came into the practice in a wheelchair. As he was a previous patient of ours, he knew to contact us to determine if there's anything we can do for him. Testing revealed there were no spinal cord signals at all, so the man was essentially paralyzed.
He had regained a little function of his diaphragm, so he could breathe on his own, and his left toes would wiggle. But there was nothing going on with the spinal cord, and most of those paths were gone. Through testing, Dr. Jeremy determined that some potential healing was taking place, and the man dedicated himself to our care plan.
Within four or five visits, he started to regain function of his right toes. Soon thereafter, the man could move his knees. Not long after that, he got up out of his wheelchair and only used a walker.
Then within a few adjustments, the man put his walker aside and started walking on a cane. Now he doesn't even come into the practice with a cane. He walks in under his own power. The patient recently told Dr. Jeremy that he is able to go on a mile hike out in the woods where he feels most alive again!
It's gratifying to help patients like these get their lives back. Could you be our next success story?
Book an Appointment
Contact Healing Touch Chiropractic today to schedule an appointment. Ask about our new patient special!

About Healing Touch Chiropractic | (301) 328-4929