Meet Dr. Jeremy Cayer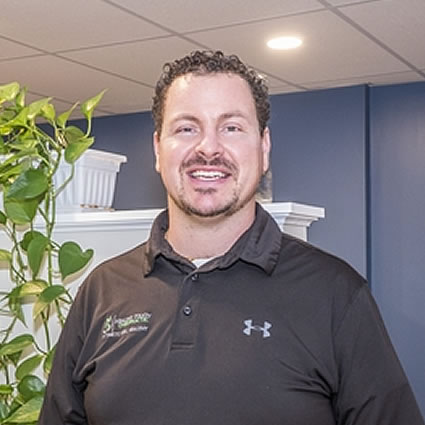 For Dr. Jeremy, the most fulfilling aspect of being a chiropractor is observing the lights go on in people's faces and eyes when they see that the body is a magnificent tool. "I'm in awe of what the body can do and what it is capable of."
Using natural chiropractic care, Dr. Jeremy hopes to impact as many lives as possible in our community. He wants people to avoid unnecessary drugs and often subsequent addiction. He also seeks to help patients avoid unnecessary surgeries and physical disabilities.
Function Improvement, Not Only Pain Relief
Dr. Cayer understands that many people are first seeking pain relief. Chiropractic provides that without drugs or surgery. However, it's more than alleviating pain. Chiropractic helps improve the body's function, so patients can enjoy what they love in life.
Following in His Grandfather's Footsteps
Dr. Cayer's grandfather was a chiropractor, so Dr. Cayer witnessed the amazing ways his grandfather helped others.
I was probably four years old, and already knew that one day I would become a chiropractor."
Education & Certifications
In 2015, Dr. Cayer earned his Doctor of Chiropractic from New York Chiropractic College. One of his professors, neurologist Dr. Lisa Bloom, made an impact on him.
"I'm heavily focused on increasing the neurological capacities of our body. So when she talked about functional neurology and the scientific basis of chiropractic care, in regard to the nervous system, it was a valuable class." Dr. Bloom inspired Dr. Jeremy to be precise with his adjustments and learn more about the nervous system.
In addition to his doctorate, Dr. Cayer has a certification in sports science and human performance, and has advanced certifications in neuromuscular reeducation. In Maryland, he's also considered a physical therapist and has a stamp on his license indicating he's a physical therapist and chiropractor.
EXPLORE OUR SERVICES
Enjoying an Active Life in Frederick
When he's not caring for patients' spines, Dr. Jeremy enjoys spending time with his wife and kids. They like to go on hikes with their children and go to lakes and rivers nearby. He also enjoys taking his kids fishing. Dr. Jeremy and his wife are also runners. He used to make pottery as a hobby and some people find it interesting that he continues to work with his hands.
Take That First Step
Discover how chiropractic care could help you. Contact us to book an appointment!

Dr. Jeremy Cayer | (301) 328-4929